For all your customisation needs
07834 014 239
DIESEL HEATER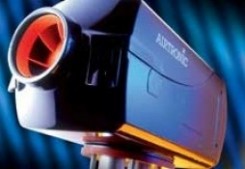 Diesel heaters are a fantastic addition and will provide comfortable camping in the extended winter months (and some UK summers…). We can install WEBASTO AIRTOP 2000 water/air heaters and EBERSPACHER D2 diesel heaters as they are compact and economical.  The Eberspacher is the most popular and our mounting bracket is specifically designed for VW T5. These heaters are mounted under the vehicle behind the vehicles protective plastic under trims, thus removing any danger of dangerous fumes escaping into the vehicle compartment. 
Two vents pipes are routed from the heater into the van cabin area and terminated in special vent outlets. The fuel supply is taken directly from the vehicle fuel tank but is installed in such a way that there is no danger of running the tank empty.
The heaters are fully controlled from within the vehicle with standard controls, however more sophisticated programmable timer controls are popular optional extras. The best time to fit these heaters are during a conversion or when the vehicle is being prepared for conversion. We can supply or fit.
---
How an Eberspächer AIRTRONIC Air Heater Works
As soon as the heater receives its starting pulse, the following processes are triggered by the central control unit:
The burner motor starts, the combustion space in pre-ventilated, the glow plug is warmed up, the metering pump conveys fuel.

The glow plug ignites the fuel-air mixture, the flame is formed.

The hot combustion gases flow through the heat exchanger.

The hot air fan draws in room air or fresh air.

The heat of the combustion gases is transferred by the heat exchanger to this hot air.

Resultant Warm air is blown back into the vehicle.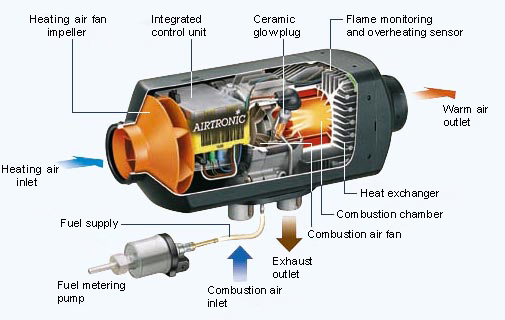 ---
 Technical Information 
Diesel Variant (D)

Voltage

V

12

Heating  Levels

 

Power

High

Medium

Low

Heating  Capacity

W

2200

1800

1200

850

Air  Throughput

m³/h

90

75

52

36

Power  Requirements

W

34

22

12

8

Fuel  Consumption

l/hr

0.28

0.23

0.15

0.10

Dimensions  (L x W x H)

mm

310 x 115 x 122

Weight

kg

2.70