For all your customisation needs
07834 014 239
REVO

'Revo Technik specialise in performance software and hardware accessories for Volkswagen, Audi & Porsche vehicles. As market leaders, the Revo team pioneered the tuning of ECUs for VAG vehicles and are THE PERFORMANCE ADVANTAGE in aftermarket tuning.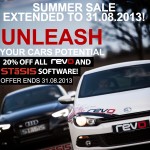 Revo are world leaders in performance software with Headquarters in Daventry – England, with over 300 authorised dealers worldwide.
Revo Technik high performance ECU tuning software releases the full potential of the car, with software that is fully adjustable to suit individual driving styles and the car's modifications
Have you got THE PERFORMANCE ADVANTAGE yet?'
VW
Revo Technik Performance Software unleashes the true potential of your Volkswagen; improving power, torque, drivability and responsiveness. All REVO software, is installed without any physical alterations to your Volkswagen. Revo Technik engine performance software is designed to enhance your vehicle and bring out its true performance potential.
The Volkswagen Audi Group have strict requirements that have to be met by each and every vehicle they produce; performance and power output is often governed by emissions laws and corporate marketing policy. Add to this the fact that most vehicles have to cope in varying climates over the globe and have to run on varying quality of fuel and you're left with cars that run nowhere near to their true potential. This is where Revo comes in and opens up the untapped performance from your vehicle.
Revo software improves the power, torque, and responsiveness of the standard engine giving you more flexibility whilst working within factory safety parameters and retaining smoothness, reliability and fuel economy.
 Here are some examples of expected gains!
| | | | | | |
| --- | --- | --- | --- | --- | --- |
| VEHICLE | ENGINE | STOCK BHP |  REVO BHP | STOCK lbft |  REVO lbft |
|  VW T4 |  2.5L |  88 |  + 20 – 30 |  144 |  + 30 – 40 |
|  VW T4 |  2.5L |  102 |  135 |  184 |  219 |
|  VW T5 |  1.9L |  85 |  105 |  148 |  178 |
|  VW T5 |  1.9L |  105 |  140 |  184 |  219 |
|  VW T5 |  2.5L |  130 |  165 |  250 |  295 |
|  VW T5 |  2.5L |  174 |  205 |  295 |  340 |
|  VW T5 |  2.0L |  88 |  + 80 – 85 |  162 |  + 30 – 40 |
|  VW T5 |  2.0L |  102 |  + 66 – 71 |  184 |  219 |
|  VW T5 |  2.0L |  138 |  + 30-35 |  235 |  + 52 – 60 |
|  VW T5 |  2.0L |  180 |  208 |  295 |  326 |
 Prices from £299 for >2010 T5 and £450 >2010 T5